This cemetery, located on West Run Rd. in Morgantown, was once known as Potter's Field, the local pauper cemetery. Today, renamed as Monongalia County Cemetery, the property is maintained by the County Commission.

Most of the graves are unmarked, but there a few, more recent markers in addition to the marker at the front of the cemetery (now riddled with bullet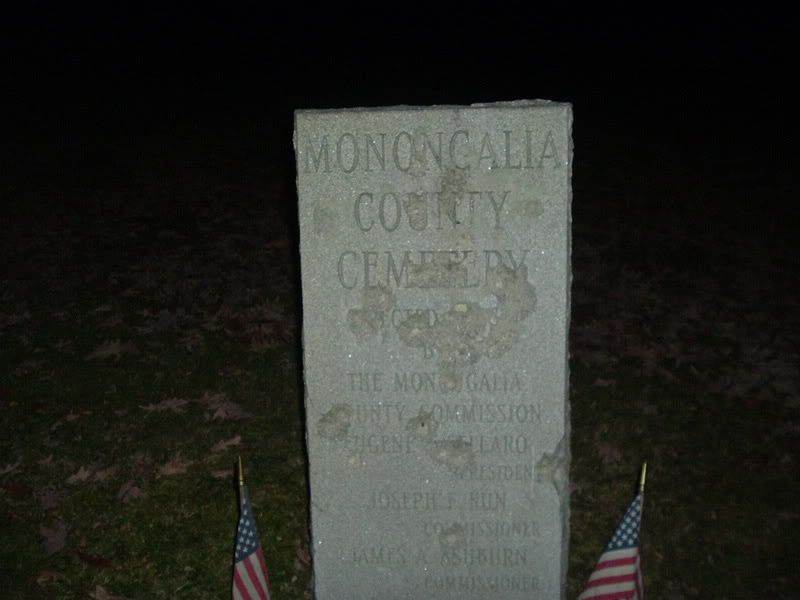 holes). This property and the surrounding woods have long had a reputation of being haunted. It is also rumored that local witches use the area for ceremonial events.

I got to visit this cemetery late last year, and indeed it is a creepy place. Nothing concrete showed up on camera or on audio, but my partner and I did have a few personal experiences. There is an overwhelming sense of paranoia about the place...like someone is watching you the whole time you're there. Going back down the path, we could hear what sounded like footsteps a few paces behind us. Turning sharply around to try to catch the "phantom" stalker...we both saw three shadows illuminated on the hillside...yet there were only two of us present.

It very well could have been the wind in the trees, or a far off echo that sounded like footsteps...and the triple shadow could have been nothing more than a mere common light phenomena...but I'd definitely like to go back and do a proper investigation.
Cemetery Transcription