West Virginia is famous for not one, but TWO court cases involving testimony from beyond the grave. While most people are well aware of the story of the Greenbrier Ghost, many people are unfamiliar with this case...a case that had a VERY drastically different outcome!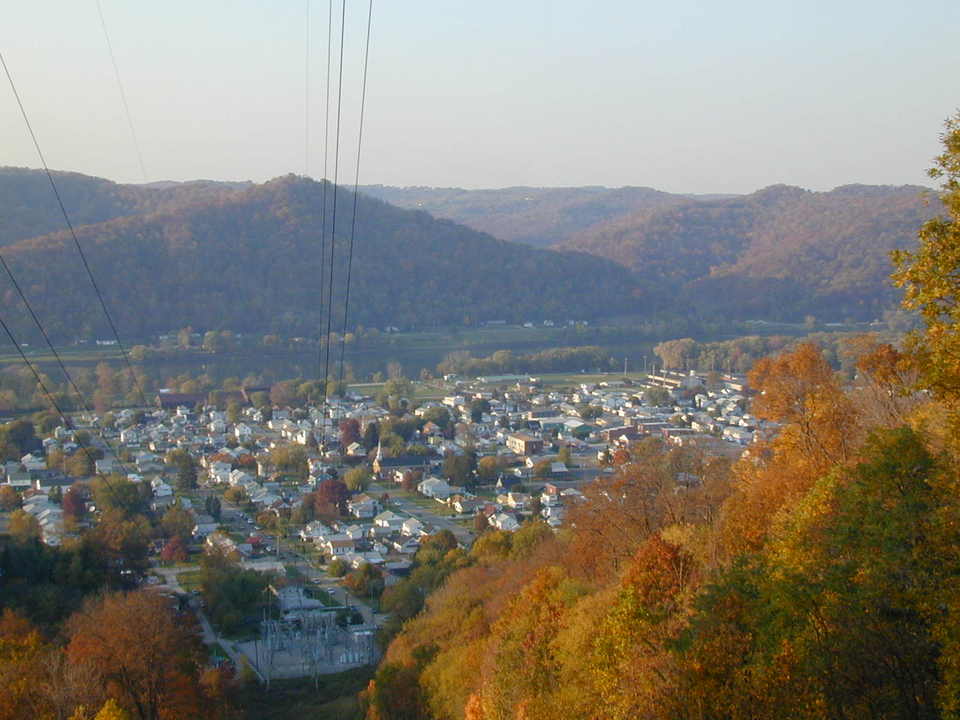 John Gamble was a carpenter from Pennsylvania who came to the Paden City area around 1850, when he was thirty-six years old. He bought 50.5 acres and settled along the Ohio River. Being the great entrepreneur that he was, Paden quickly found a niche in the river trading industry, trading wagon parts, livestock, and many other goods.
That year, he sold a wagon to the Whiteman Brothers, who also lived along the Ohio River. He accepted a $20 IOU as payment, and then later, bought a calf from a Mr. Leb Mercer. Gamble paid the entire price of the calf, save for $2.
Autumn soon arrived, and it proved to be a great year for apples in that part of West Virginia. Again, banking on his entrepreneurial skills, Gamble got involved in the cider making business. Short on barrels one day, he took his skiff to nearby New Martinsville for more.
On his return trip from New Martinsburg, he stopped by the Whiteman farm to collect his IOU. The Whiteman brothers still could not pay, and at the time, were receiving another visitor---Leb Mercer. Since IOUs were being discussed, Mercer asked Gamble if he could pay him the $2 HE was owed. Gamble pulled out a $5 bill, but Mercer did not have any change, and asked Gamble if that was all the money he had. Gamble foolishly disclosed that he had over $200 cash on him, but no bills smaller than a $5.
Gamble left the farm, and pushed off down the river on his skiff. It was the last anyone would see him...
...until the following Fall. John Hindman, a citizen of New Martinsville, was in town attending a corn husking on Point Pleasant Ridge. When it was time to leave, he and his friends split up. It was their intent to each take a different route home to see which was the best way to go. Hindman took the path along the Ohio River, known as Gamble Run.
It was on this path by the light of the moon that Hindman saw a figure of a man step out in front of him. The man spoke to him, saying, "I am John Gamble. Leb Mercer killed me. Take him up and have justice done." The figure then disappeared, and Hindman ran all the way back into town. It wasn't until the next day that he told his story. He described the apparition, and even though he had never known or seen John Gamble while he was alive, was able to accurately describe his clothes, his speech, and other characteristics.
The townsfolk got to talking, and many believed the boy's story. It was also reported that Leb Mercer was seen "moving towards" Gamble as he left the Whiteman farm. Therefore, that year, a Wetzel County Grand Jury decided to investigate the case. It was further discovered that Leb had the missing IOU for the wagon on him. His own mother even testified that the night John Gamble went missing, her son arrived home at 2am, wet and covered with mud.
Leb Mercer was arrested on first degree murder charges, and the case went to trial in 1854. The defense attorney, desperate for a course of action, claimed that since the only witness to the crime was John Gamble, and that it was the ghost of John Gamble who pointed the finger at Mercer, then he should be called in to testify.
In a move that baffled everyone, the judge agreed. The ghost was called in to testify, and when he failed to appear, he was charged in contempt of court, and Leb Mercer was ultimately acquitted. He later moved to the town of St. Mary's, where he was often seen acting strangely and muttering to himself.
At least....that's the tale folklore has provided over the years, and which is recorded in
The History of Wetzel County
by John McEldowney. Unfortunately, the story cannot be verified, nor disproved, as many records, including the court transcripts from this case, were lost or destroyed before 1900.
The ghost of John Gamble has never been seen again. However, he may still be out there, on Gamble's Run, waiting for a court summons that will never be delivered.