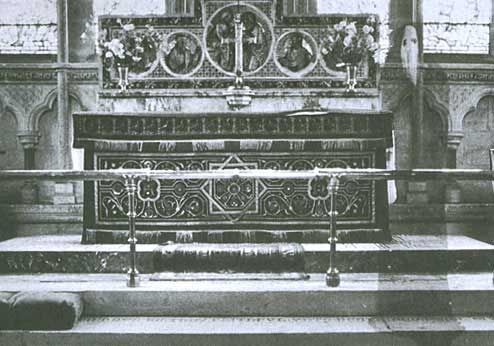 The Spectre of Newby Church is undoubtedly one of the most controversial "true ghost photos" found floating around the web. The photo in question was taken in 1963 by Reverend Kenneth F. Lord, vicar of the Church of Christ the Consoler, located on the grounds of Newby Hall. Reverend Lord was photographing the interior of his church, and took this photo of a favorite altar. At the time, he was allegedly alone in the church, and the phantom apparition that would appear on the developed film was not visible to the naked eye.
To some, this photo is an excellent example of true ghost photography. The church had not previously had any reports of paranormal activity, yet the photo clearly showed an apparition looking directly at the camera. It appeared to be wearing a monk's robe, and have a shrouded face. (Today's skeptics are quick to point out the resemblence to the
Scream
mask.) As soon as the photo was released to the public, many people believed it to be the result of double exposure. However, from the perspective shown, the apparition, which is standing on the first stair to the alter, would have to be around nine feet tall!
In the late 1970s, a group of experts was consulted by the BBC for a program on famous ghost photos and hauntings. Karl Denchly, a member of this consultation group, claimed that the consensus was that there was no tampering to the photo itself or the negative, and that the most up-to-date technologies available were used in analyzing and examining the photo. Still, the clarity of the apparition, the fact that the shroud could be used to hide a hoaxer's identity, and the ambiguous historical documentation raise red flags for many skeptics.
The church was built between 1871 and 1876 on the grounds of Newby Hall. It was to be a memorial for Frederick Vyner, who was murdered in Greece, and whose mother's family owned the Newby estate. The apparition in the photo, however, does not appear to be contemporary with when the church was built...rather, it is more reminiscent of monks dating prior to the 16th century, before Henry VIII's religious oppressions.
Whether or not this image is genuine ghost photography or not is debatable. In any event, it is an image that has haunted many with its ghastly face and imposing stature.